SAN FRANCISCO, CA, October 7, 2020– "All hail October, the finest month for movies," wrote respected writer-editor Peter Suderman once for Vox.  "They aren't sequels or franchise starters… they're smart, original, upper-middlebrow movies for adults that don't skimp on entertainment value."
Well, Filipino American filmmakers and their works are generating major buzz this October.  This could only mean good news for all movie lovers.
YELLOW ROSE
After doing the festival route last year — including the huge XXII Guanajuato International Film Festival (GIFF) in Mexico where it was part of the Spotlight on the 100 Years of Philippine Cinema —YELLOW ROSE, the immigration drama with an unforgettable soundtrack, is coming to the big screens on October 9.  The film won in 2019 the Special Jury Award-Best Narrative Feature at the Asian American International Film Festival in New York City and the Grand Jury Prize-Best Narrative Feature and Best Breakout Performance for Eva Noblezada at the Los Angeles Asian Pacific Film Festival.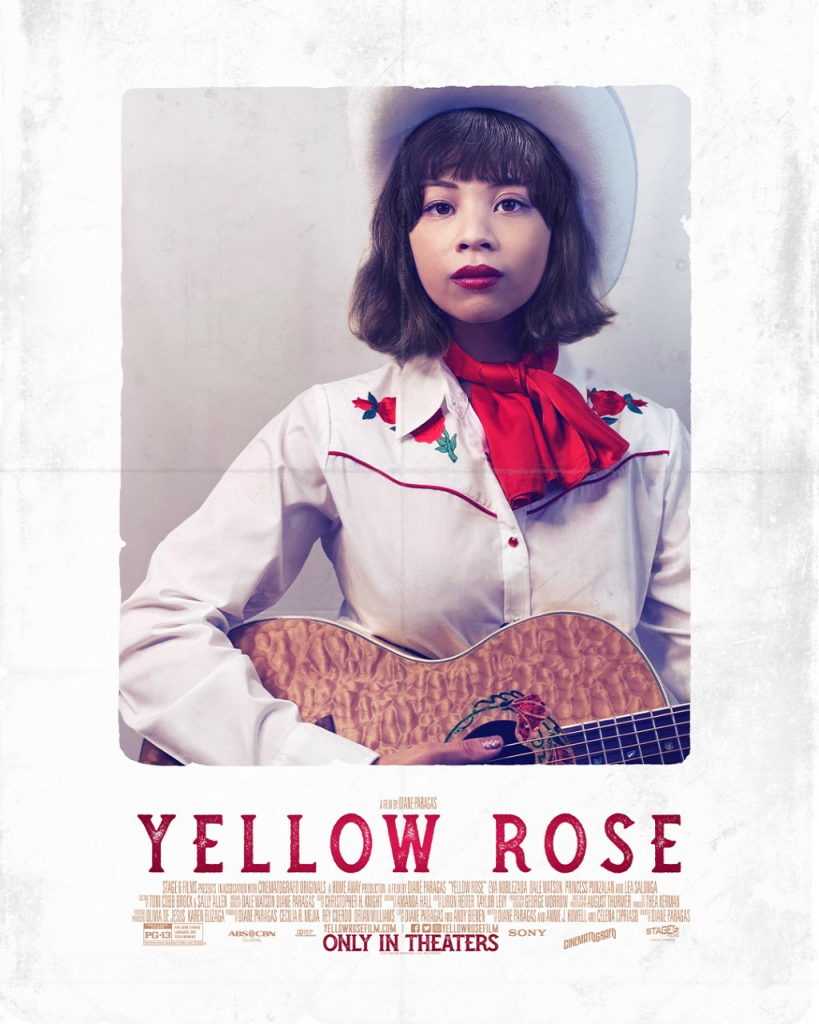 The narrative feature debut of Diane Paragas stars Eva Noblezada (Hadestown, Miss Saigon) in her feature film debut, Tony Award winner Lea Salonga (Once on this Island, Miss Saigon), Princess Punzalan (Mula sa Puso), Dale Watson (Friday Night Lights), Gustavo Gomez (The Walking Dead), Libby Villari (Boyhood) and Liam Booth (Ghosts Never Sleep).
The film is a timely story about a Filipina teen from a small Texas town who fights to pursue her dreams as a country music performer while facing the threat of deportation.  An ABS-CBN Cinematografo 2017 seed grant selection, it became the first Filipino and Filipino American film to be acquired by Sony Pictures for theatrical release in the U.S.
Paragas produced, directed and wrote 
YELLOW ROSE 
with 
Annie Howell 
and 
Celena Cipriaso 
based on a story by Paragas and 
Andy Bienen
. Also producing are 
Cecilia R. Mejia
, 
Rey Cuerdo 
and 
Orian Williams
.  Executive Producers are 
Olivia De Jesus 
and 
Karen Elizaga
.  For more info on 
YELLOW ROSE
 screenings, visit 
https://www.fandango.com/yellow-rose-2020-221438/movie-times
LINGUA FRANCA
One of recent arrivals is LINGUA FRANCA which made history last year at the prestigious Venice International Film Festival as the first film directed, written, edited and produced by and starring an openly trans woman of color, Isabel Sandoval.  The film won Best Picture in 2019 at the 25th Festival Cheries Cheris in Paris, France, Best Performance for Sandoval at the 30th Young Critics Circle Film Desk in Manila, Philippines, and just a week ago, Best Film at the 24th Queer Lisboa in Lisbon, Portugal.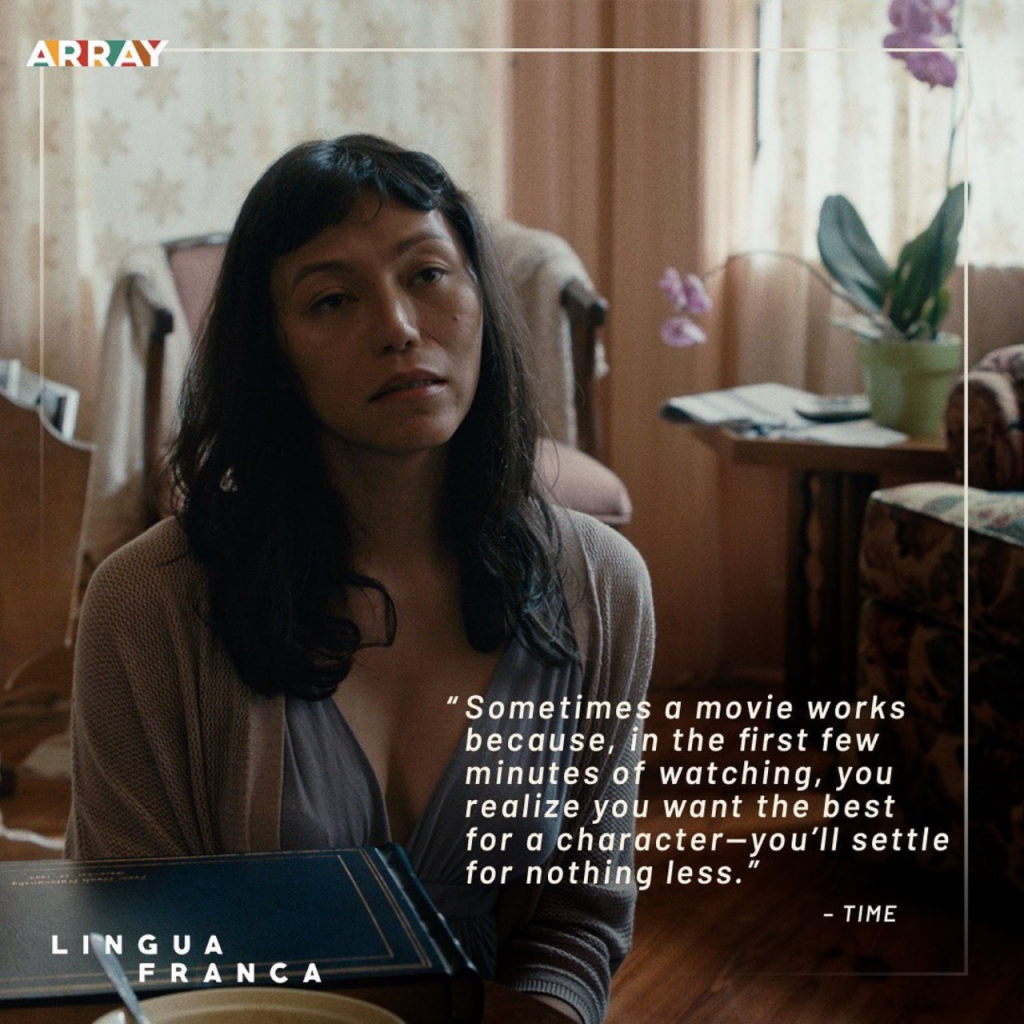 In LINGUA FRANCA, the protagonist Olivia (Sandoval) is an undocumented Filipino trans woman who works as a caregiver for an aging Russian expat Olga (Lynn Cohen) in Brighton Beach, Brooklyn.  Olivia has been anxiously saving money to marry someone in exchange for a green card.  Fearful and stressed from previous green card setbacks, things change when she unexpectedly becomes romantically involved with Alex (Eamon Farren), Olga's troubled son who struggles with dependency issues and a distrustful family.  The film weaves through issues of identity, civil rights, immigration and love.Ava DuVernay's ARRAY acquired the title for release in select theaters and on Netflix.
In Rotten Tomatoes' Best Films in 2020 list, LINGUA FRANCA registered 83% on Tomatometer, with the following Critics Consensus: "Lingua Franca brings warmth and humanity to its social issue-driven plot with sensitive performances and writer-director Isabel Sandoval's gently empathetic touch."
CAAMFest FORWARD
For 38 years, CAAMFest by CAAM (Center for Asian American Media) has been celebrating the world's largest showcase for new Asian American and Asian film, food, and music programs. On October 14-18, 2020, the upcoming festival will take CAAMFest to new heights with two unique drive-in experiences, over a dozen live virtual programs, and over 40 films available to watch on its on-demand channel.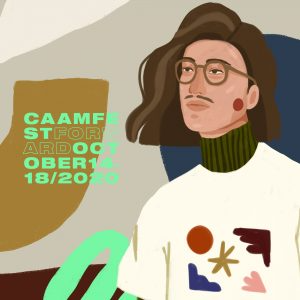 Key CAAMFest FORWARD Programming includes:  
* Two Days of Drive-In Experiences at Fort Mason Center, Oct 14 and 15  
CAAM is thrilled to present its first slate of in-person experience since the pandemic started. Working closely with Fort Mason Center and following the City of San Francisco's health guidelines, public programs will be exciting and safe for the community. The drive-in experiences will also include food available for purchase from Off the Grid.
Drive-In Day One: A Celebration of Filipina Musical Talent, Oct 14 
In celebration of Filipino American History Month, CAAM will showcase two world premiere projects that celebrate a music icon and rising star:
*Lea Salonga in Concert with the Sydney Symphony Orchestra. CAAM-funded live concert features internationally famed for her powerhouse voice and perfect pitch Lea Salonga, who burst onto the Broadway musical scene with her 1991 Tony Award-winning performance as Kim in MISS SAIGON. This new Great Performances program presents Salonga in peak performance at the Sydney Opera House, singing a selection of songs from her Broadway career as well as her hits from the animated movie blockbusters, ALLADIN and MULAN.
*7000 Miles: Homecoming. A new music documentary directed by Evelyn Obamos that chronicles the Bay Area's own hip hop star Ruby Ibarra and her band the Balikbayans as they take a trip back to the Philippines. Ruby Ibarra is a Filipino American rapper, music producer, and spoken word artist from San Lorenzo, California. She raps in Tagalog, Waray, and English.
Additional CAAMFest Forward Programming includes: 
*Focus on Filipino American Cinema. October is national Filipino American History Month, and CAAMFest FORWARD is proud to celebrate eight films by and about the Filipino American community. Highlights include day one of its drive-in at Fort Mason, Bay Area Filmmaker Celine Shimizu's THE CELINE ARCHIVE, and new feature musical, THE GIRL WHO LEFT HOME (Dir. Mallorie Ortega). Through the partnership with Comcast NBCUniversal, CAAMFest is also hosting a special conversation with SUPERSTORE's Nico Santos.