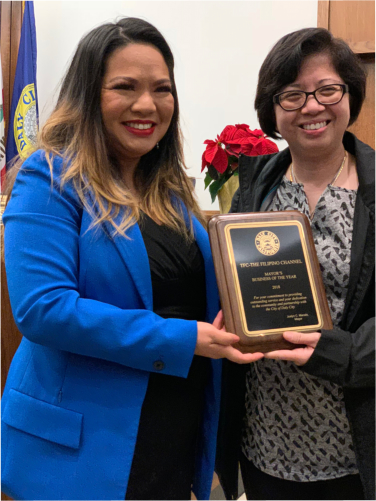 DALY CITY, Calif., December 11, 2018 — At the historic installation of newly-elected City Councilmembers at the City Council Chambers of Daly City's Civic Center, TFC was named Mayor's Business of the Year.  According to Mayor Juslyn Manalo, TFC provides entertainment and offers shows that reflect the Filipino culture and values. But more than that, Manalo adds that "it's really through the work they've done for the community.For the past two years they've partnered with the city of Daly City to do the Filipino American History Month celebration and it's wonderful to partner with a business that cares about the community.We see a long-term partnership with The Filipino Channel and it's an honor to present this award to them."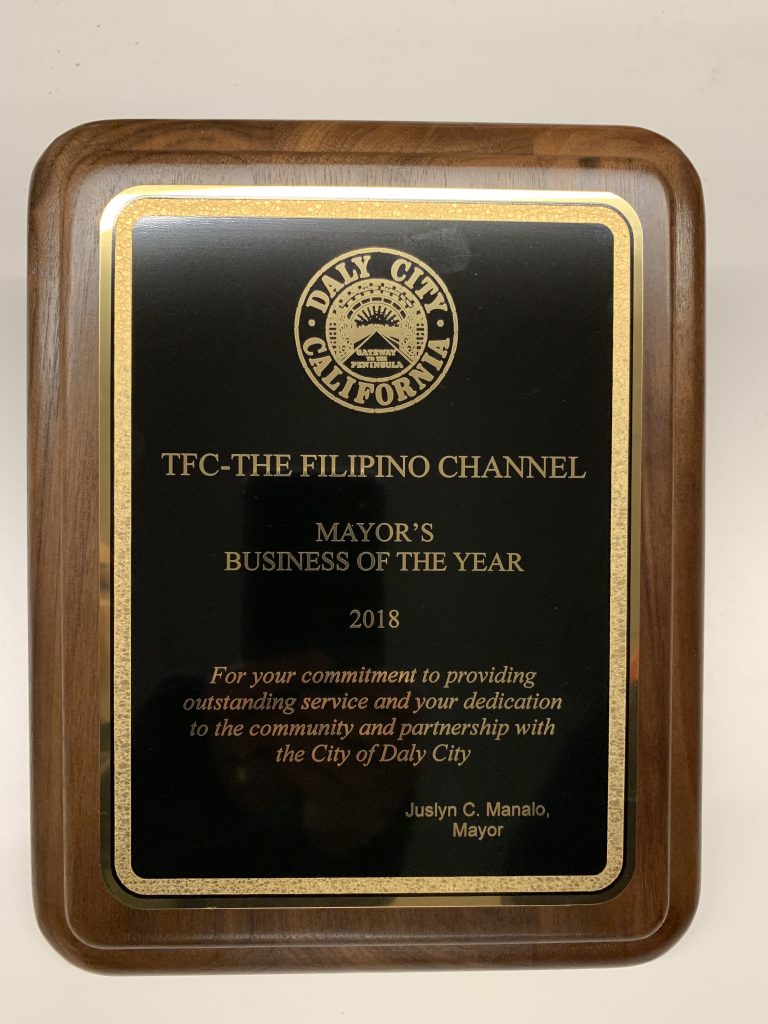 ABS-CBN Global Head of Corporate Affairs & PR Nerissa Fernandezaccepted the award on behalf of Global COO Olivia De Jesus and North and Latin America Managing Director Jun Del Rosario. In her speech, Fernandez quoted the late Chairman Emeritus Don Eugenio Lopez, Jr when he was asked if ABS-CBN is about values first or service first? "ABS-CBN is about values first because values comprise the soul of service." She added that "Daly City provided us a business environment wherein we could freely put into practice our cherished corporate values."
In attendance at the ceremonies were California State Senator Scott Wiener andAssemblymember Philip Ting of the California Legislature, both of whom also presented TFC with Certificates of Recognition.
Fernandez underlined the significance of being named Mayor's Business of the Year in Daly City,the largest city in San Mateo County, saying it"is an impactful recognition for ABS-CBN and TFC. But we shouldn't wear it over our shoulders like a mantle of 'we achieved this and that.' What this award affirms is the importance of corporate citizenship. Our business is not removed from the living, breathing community it operates in. What we do or not do in and with the community matters. As newly inducted Daly City Councilman Rod Daus-Magbual said, 'My father taught me to look at Daly City as my garden. If you take care of the plants, the plants will take care of you.'"
Other attendees of the Special Meeting of the City Council were Congresswoman Jackie Spier, San Mateo County Supervisor David Canepa, former San Francisco Mayor Willie Brown. Other awards given out by the city are the Citizen of the Year, Commissioner of the Year, and Youth of the Year.
Media Contact:
Pia Lopezbanos-Carrion
ABS-CBN International – TFC
2001 Juniperro Serra Blvd, Ste. 200
Daly City, CA 94014