24 January 2019, SAN FRANCISCO – The Philippine Consulate General in San Francisco presented the three-day Spark Philippines Trade and Travel Fest (Spark Philippines) on 16-18 January to showcase the best of Philippine cuisine and travel. The event was a joint project of the Consulate with the Philippine Trade and Investment Center and the Philippine Department of Tourism office in San Francisco under the Spark* Connect* Empower Movement.
Post partnered with Filipino Young Leaders Program (FYLPRO) alumna Joanne Boston-Kwanhull in implementing Spark Philippines, especially its focus on Philippine cuisine, and travel company Pacific Air Leisure, in the event's focus on Philippine tourism.
Spark Philippines happened on the heels of the Winter Fancy Food Show (WFFS) in San Francisco and featured Philippine exhibitors/ exporters that participated in the biggest specialty food and beverage show in the West Coast. Among those which exhibited in Spark Philippines are as follows: Auro Chocolate, Bethany Sales Inc., Century Pacific Food Inc., CJ Uniworld Corp., Grand Asia Integrated Natural Coco Products Corp., Innovative Packaging Industry Corp., PasciolcoAgri Venture, Profood International Corp., Prime Fruits International Inc., San Miguel Food and Beverage, Inc., Magicmelt Foods, Inc., SL Agritech Corp., Islamic Da'Wah Council of the Philippines, Inc. Saladmaster, Xroads Philippine Seasalts, Kusinero Alliance, and MamaSita.
Spark Philippines Day 1: Spotlight on Trade in Food
On 16 January, Spark Philippines' first day was focused on trade in food. Consul General Henry S. Bensurto, Jr. welcomed Philippine exhibitors in the WFFS, guests and the general public to the event, which featured exhibit booths and Philippine products showcased in the WFFS. Exhibitors, such as Leni Dicarlo, exporter of AsinTibuok or artisanal Philippine sea salt, and Auro Chocolate company owners were able to feature their products in Spark Philippines.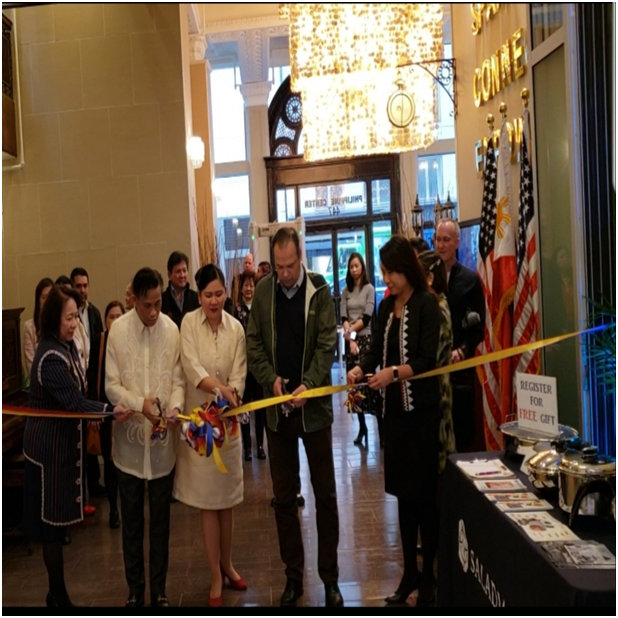 Mr. Clayton Stanger, head of the regional Office of Foreign Missions, and deputy head Mr. Matthew Davis, graced the opening of Spark Philippines. In his remarks, Mr. Stanger emphasized his appreciation for the Consulate's leadership in promoting trade and tourism, through Spark Philippines Trade and Travel Fest. He highlighted interesting finds in the Fest, such as the artisanal AsinTibuokand Auro Chocolates.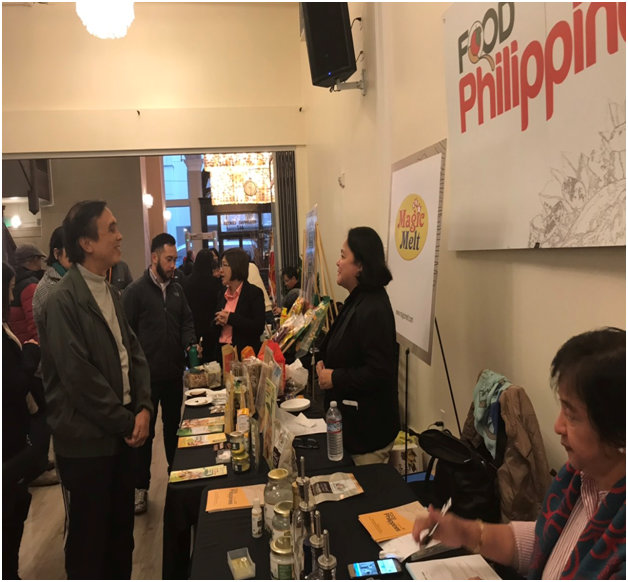 National Economic and Development Authority Secretary Ernesto Pernia also graced the event during his short travel to San Francisco.
Consul General Bensurtounderscored the Consulate's support for Philippine exporters, Filipino American chefs in the Bay Area, and the tourism sector.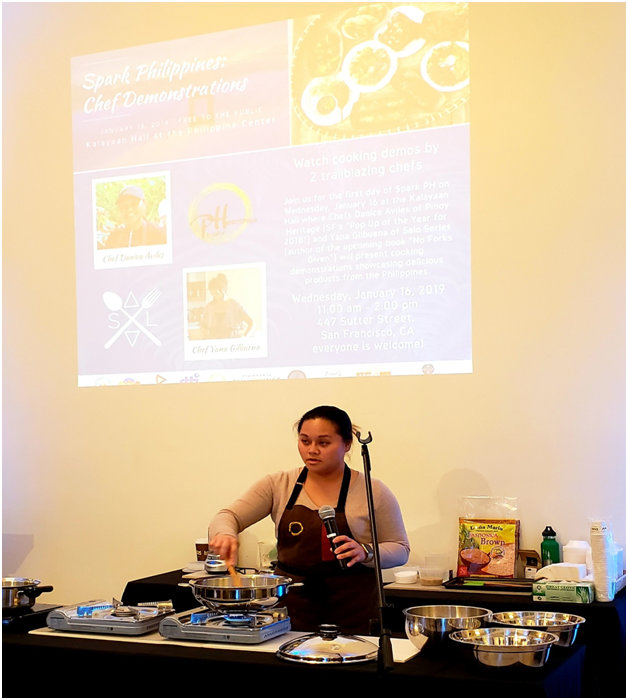 Spark Philippines' Day 1 featured live cooking demonstrations by talented Filipino American chefs, Yana Gilbuena (http://saloseries.com/press/), who has featured kamayan-style pop-up meals in all of US' 50 states, and Chef Danica Aviles of Pinoy Heritage (https://www.pinoyheritage.com/story/ ). The chefsare known for their pop-up meals that feature Filipino gastronomic traditions using the latest culinary techniques and fresh locally sourced ingredients. Chef Yana prepared salmon kinilawand mushroom sisig while Chef Danica prepared crunchy champorado.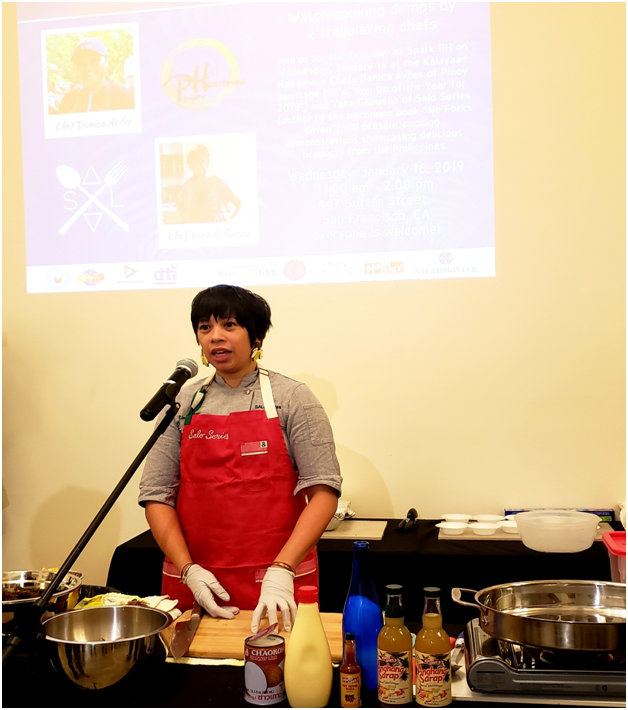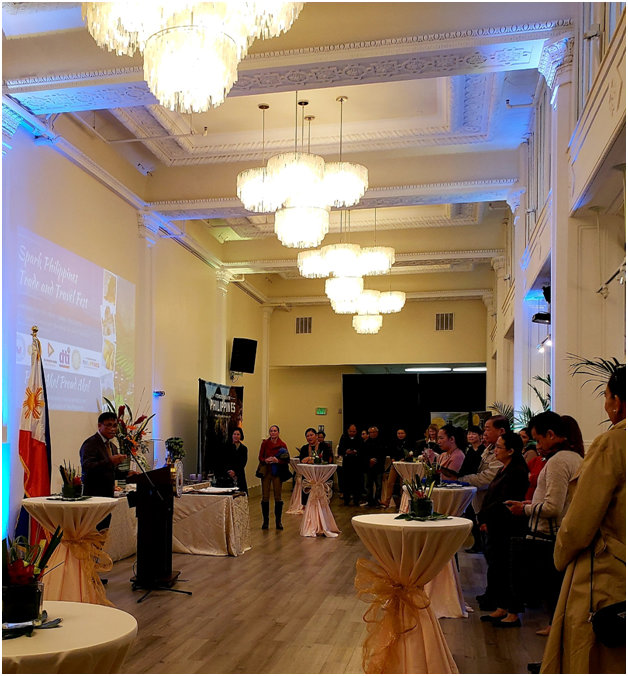 Spark Philippines' Day 2: Focus on Philippine Tourism
Day 2 of Spark Philippines on 17 January featured a lunch reception for the Consular Corps and Consulate guests at the Kalayaan Hall of the Philippine Center. The reception featured InfantaLambanog cocktails and Filipino fusion dishes (such as chips with laingdip, adobo sliders, crispy spinach, vegetarian lumpia, calamansitarts, kapengbarakomousse, etc.) made by Filipino-American chefs/caterers. Entertainment was provided by the 25-year-old rondallagroup Tradicion in cooperation with the University of the Philippines Alumni Association Berkeley chapter. The Consulate also took the opportunity to promote the Ambassadors Tour or VIP Tour in July 2019.
In his remarks, the Consul General underscored the Consulate's Spark* Connect * Empower movement to spark pride and love of the Philippines and Filipino heritage, connect Filipino Americans with the larger Filipino diaspora, Filipinos back home and their host communities abroad, and empower them to harness their heritage and history and develop their full potentials. He expressed hope that Filipinos are in turn, empowered to give back to their host communities and their country of birth and uplift lives in the process. He highlighted the objective of Spark Philippines, which is to showcase Philippine gastronomy and travel.
Among the attendees were counterparts in the Consular Corps, Mr. David Canepa of the San Mateo County Board of Supervisors, and members of the League of San Francisco Consular Corps.
In the evening of Day 2, a dinner-meeting hosted by Pacific Air Leisure afforded the PDOT and travel consolidators an opportunity to update travel agents and select Filcom members on the latest trends in the airline industry and Philippine tourism and travel.
Spark Philippines' Day 3: Pop-up Philippines!
Day 3 of Spark Philippines on 18 January featured grab-and-go lunch vendor Manila Bowl (https://manilabowl.com/ ), which offered popular Filipino dishes to Consulate's clients, such as chicken sisig, adobo, kare-kare (vegetarian), chicharon, etc.
The pop-up dinner on even date featured a kamayandinner by Chef Yana Gilbuena. Some 70 guests, including Filipino Americans and foreignersshared a sumptuous Filipino menu, inspired by the chef's Ilonggo roots. They ate with their bare hands on a long table of banana leaves. Consul General Bensurto opened the dinner with short remarks reaffirming the Consulate's support for Filipino culinary talents.