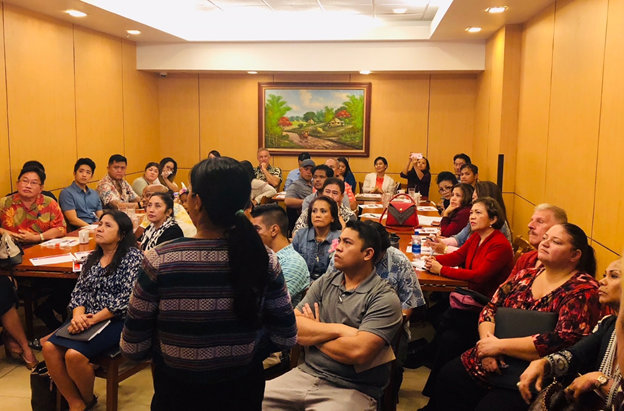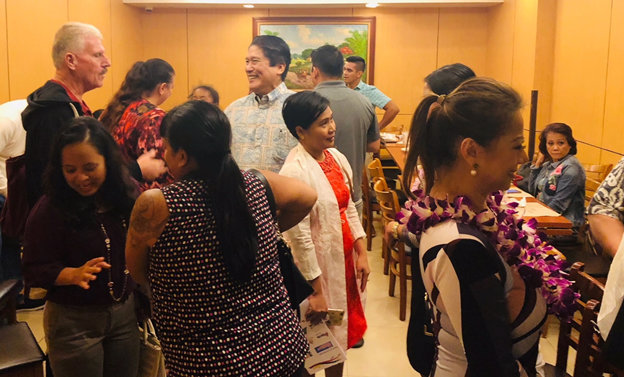 (10 January 2019, Honolulu, Hawaii) – The Philippine Consulate General spoke to more than 50 businessmen and aspiring entrepreneurs about "Doing Business in the Philippines" on 9 January 2019 at the Max's of Manila Restaurant in Dilingham, Honolulu. The briefing was made by Vice Consul Andrea Christina Caymo, the Consulate's Economic Officer, during the monthly meeting of the Filipino Chamber of Commerce of Hawaii.
Vice Consul Caymo elaborated on the reasons to consider the Philippines as an investment option citing the strong macroeconomic fundamentals exhibited by the country in the last few years. The Philippines is one of the fastest growing economies in Asia posting a GDP growth rate of 6.7% in 2017. This is higher than the world average of 3.2%. Inflation rate is within the government's estimate of 4%. English literacy is high making it easy for foreign firms to operate in the country and find English-speaking workers. Average cost of labor and office space is also relatively lower as compared to other developing countries.
Market size is very attractive with the country boasting a population of 100.98 million based on 2015 census. Businesses can also take advantage of the country's special trade arrangements with its trading partners such as the Association of South East Asian Nations (ASEAN), the European Union (EU), and the United States. As a member nation of ASEAN, products originating from the Philippines get preferential treatment when traded within the ASEAN region. Moreover, companies operating in the Philippines can enjoy duty-free access for 6,274 tariff lines under the GSP+ Program of the EU. Meanwhile, about 70 percent of PH exports can enter the US duty-free under GSP and MFN program.
In term so of business opportunities, Vice Consul Caymo highlighted the Investment Priorities Plan (IPP) of the Philippine government (http://boi.gov.ph/wp-content/uploads/2018/03/2017-IPP-GP-SG-CTC.pdf). Under the IPP 2017, investing on certain sectors such as manufacturing activities, agriculture, strategic services, healthcare services, environment, energy, among others will entitle businesses to incentives from government agencies. There are also a number of successful franchises that potential investors can consider getting into. More information about the available franchising opportunities can be found from the website of the Philippine Franchise Association (http://www.pfa.org.ph/).
Given the high interest generated by the event, the Consulate plans to hold similar briefings in the future in collaboration with the Filipino Chamber of Commerce of Hawaii, the Philippine Trade and Investment Center in San Francisco, and other stakeholders. To learn more about doing business in the Philippines, interested parties can contact the Economic Section of the Consulate through phone (808-595-6316) or email ([email protected]). <END>