March 23, 2020 (LOS ANGELES, Calif.) — As social distancing and "safer at home" orders have become the new normal, artists and musicians take to social media to keep the community of music lovers in good spirits.
Starting Monday, March 23, myx will feature a series of music live-streams that will be available on the myxTV channels on Instagram, YouTube, KUMU and Tik Tok, as well as available for re-broadcast on the myxTV and myxRADIO platforms.
First off is myxTAPE, an intimate concert experience with various artists from around the world answering fan questions and performing or playing original music from the comfort of their homes. myxTAPE is livestreamed daily at 6:00 P.M. PST on the artist pages, co-hosted with @myxTV. Re-broadcast can be seen on myxTV.
Set to appear this week are the following artists:
March 23, Monday – AJ RAFAEL | @ajrafael – Filipino American popular YouTuber and singer/songwriter with over 2M social media followers, who has worked with artists like Tori Kelly and Moira.
March 24, Tuesday – WILL GITTENS | @willgittens – Singer/songwriter recently featured by Justin Bieber for his recent popular covers.
March 25, Wednesday – DYLAN BERNARD | @dtbmuzic – Guitarist and songwriter who just released his "Higher" single with over 10M views on YouTube alone.
March 26, Thursday – FIA | @theartistfia – Hawaiian R&B singer who recently won "Artist of the Year" at the Island Music Awards and who has over 10M views on YouTube.
March 27, Friday – GABE BONDOC | @gabebondoc – Filipino American popular YouTuber known for his original songs and covers with over 70M YouTube plays.
Also, Heavy Rotation just started hosting a digital gathering of music lovers and artists in a daily "Lockdown Listening Party," where fans will discover R&B/Hip-Hop Filipino artists from around the world. The virtual listening session will be live streamed daily on Instagram @listentoHR at 1:00 P.M. PST and will re-air on the "Heavy Rotation" podcast airing Wednesdays on the myxRADIO station on Dash Radio, which receives an average of over 1.2M monthly listens.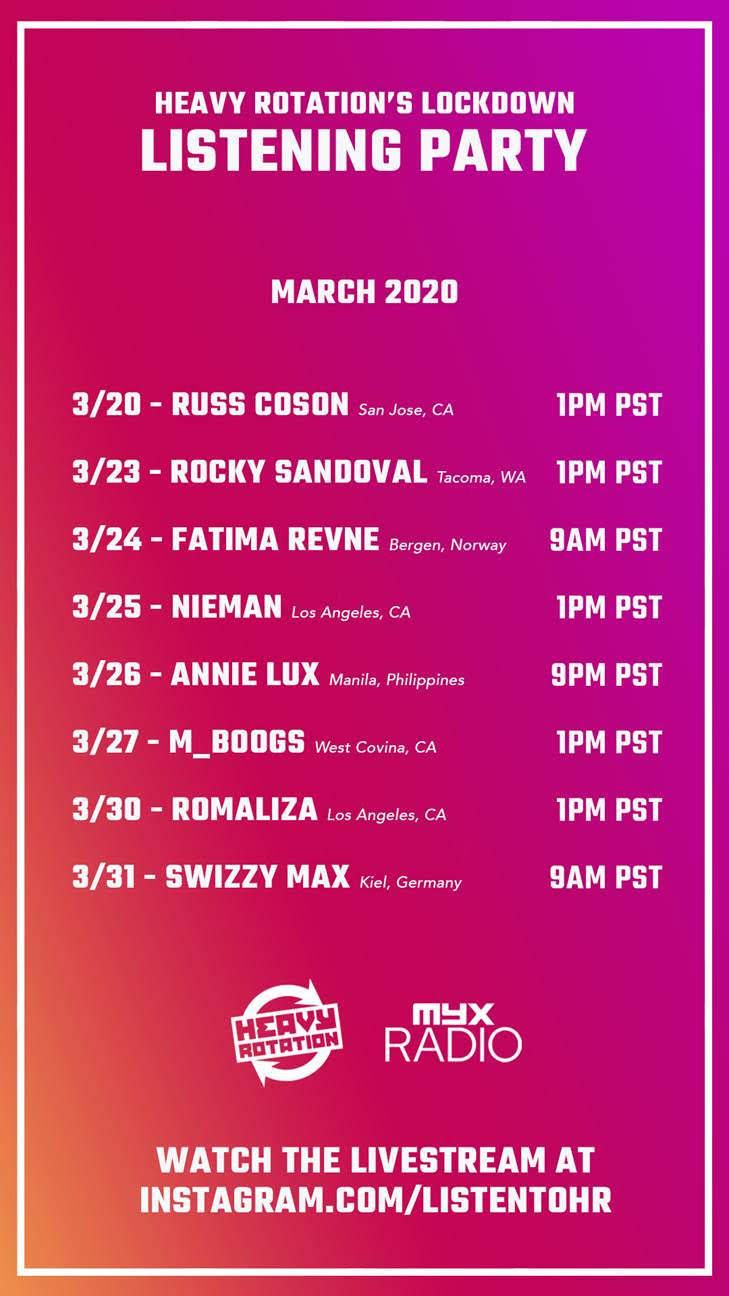 Performers scheduled to appear for the rest of the month are:
March 23 – ROCKY SANDOVAL | @rockysandoval – an R&B/Pop artist who appeared on the first season of American Idol season 1, and has been touring with R&B legends, teaching and writing new music.
March 24 – FATIMA REVNE | @fatimarevne – an international singer/song writer from Bergen, Norway, known for her work with famous Norwegian producer/DJ, WNDR, while working as a nurse by day.
March 25 – NIEMAN | @niemanmusic – an R&B/Pop artist based out of Los Angeles exhibiting uniqueness in approach and confidence in sound.
March 26 – ANNIE LUX | @annieluxmusic – a Canadian-born Filipina singer-songwriter, actress, model and a self-proclaimed 'bedroom music-producer', who's earned over four million views on YouTube and is featured on several Spotify editorial playlists.
March 27 – M BOOGS | @m_boogs – provides chill rhymes over chill beats to guide you through your day to day life.
March 30 – ROMALIZA | @romaliza_ – an R&B singer/songwriter from Long Beach, CA, influenced by 90's style R&B, hip hop and pop who provides timeless therapeutic vibes through her music.
March 31 – SWIZZY MAX | @swizzymaxilom – a song writer, producer and artist from Kiel, Germany bringing out brand new originals with Trap, Reggaeton, Afro beats and Dancehall riddims.
Even as the world is adapting to a new way of life in the time of COVID-19 quarantine and "safer from home" shelter, music lovers of all genres can still get their music fix via myx. Follow myx on Facebook.com/myxTV, Instagram.com/myxTV, and on Twitter.com/myxTV.