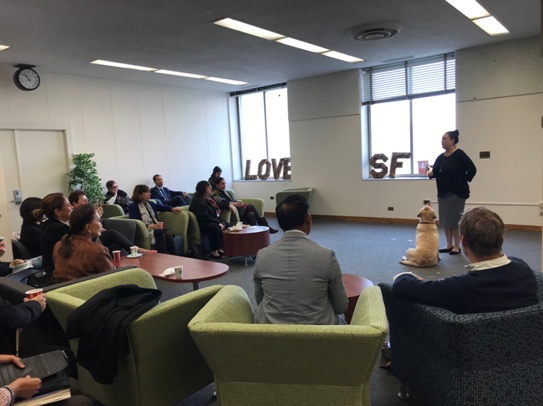 SAN FRANCISCO, 14 November – The League of San Francisco Consular Corps (LSFCC) called on District Attorney (DA) for San Francisco City and County Mr. George Gascon and learned more about the office's thrusts and priorities, including his focus on implementing restorative justice.
The LSFCC, led by its current President, Ms. Mariza S. Bensurto, was given a tour of the DA's office. LSFCC members were able to meet the DA's key officers and know about some of the innovative ways that the DA has employed to protect victims of crimes and rehabilitate offenders and reconcile them with the society.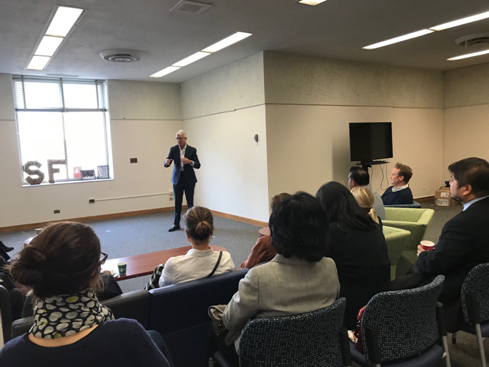 DA Gascon's leadership
Atty. Gascon underscored his office's emphasis on the use of solid data to inform their processes, such as prosecution. The DA has launched DA Stat, which is an internal data collection tool. It also has maximized use of social media and data- capturing tools to build cases.
He was also instrumental in initiating national and international efforts to curb smartphone theft through Secure Our Smartphones Initiative (SOS). The SOS Initiative advocated for the employment of a "kill switch" application to enable authorized users to remotely deactivate their stolen devices. The initiative resulted in the drafting of Senate Bill 962 and a significant decrease in smartphone theft.
Among other initiatives that DA Gascon led related to addressing public safety concerns, were the creation of eight "Advisory Boards" comprised of community stakeholders. He has also brought to the fore the issue of ensuring equity in the money bail system and addressed the same. Through a grant from the Board of State and Community Corrections, the DA has also implemented LEAD SF, which is a "pre-booking diversion program that refers repeat, low-level drug offenders to community-based health and social services as an alternative to jail and prosecution."
DA Gascon was also the brains behind the creation of the Crime Strategies Unit, which aims to target large-scale criminal enterprises, and the Young Adult Court, which addresses concerns of young adult defendants aged 18-25. He was also an advocate of Proposition 47, an initiative that reduced six nonviolent drug-related felonies, including possession of illegal drugs to misdemeanors.
Most recently, DA Gascon and the California Attorney General announced a $148-million settlement with Uber after the latter violated state data breach reporting and data security laws after it allegedly exposed 57 million users' data and paid hackers to cover up the breach.
In the United States, particularly in San Francisco County and City, the DA is the chief prosecutor. It can also prosecute environmental offenses, such as dumping of garbage at the bay, and works towards other issues, such as consumer protection.
The DA has used out-of-the box mechanisms to implement restorative justice, such as dialogues, community services, anger management. It also uses the jury system and has created specialized collaborative courts, such as drug court, veterans court, young adults court, neighborhood court, etc.
Atty. Gascon was elected in 2011 as District Attorney.
Sustaining Support for Victims and Rehabilitation of Offenders
Aside from involving key community leaders in DA's processes, especially in the rehabilitation process of offenders, and facilitating them to make peace with their victims, the DA's office  provides support and assistance to victims and their families after a crime is reported, during criminal prosecution, and after handing down a verdict.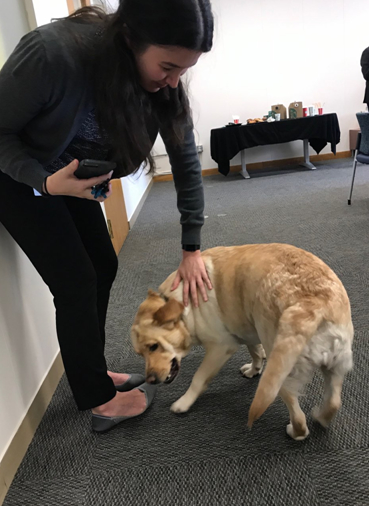 At the start of the meetings at the DA's office, LSFCC members were greeted by "Pink," an English Labrador, that works with victims and provides them with emotional support. According to Pink's handler, Victim Services Chief Gena Castro Rodriguez, the facility dog calms down victims and enables them, especially the vulnerable ones, such as children and the elderly, to be less anxious as they go through the criminal justice system's processes. Pink reduces the trauma experienced by victims and enables them to cooperate with authorities more openly by appealing to their sympathetic nervous system. Pink also worked with victims of the Las Vegas shooting in 2017.
Bilateral Arrangements with Foreign Consulates
The DA's Office has continued to cooperate with foreign consulates in San Francisco. It has standing Memoranda of Understanding with several Consulates, including those of Mexico and the Philippines.
The DA has worked on expanding preventive measures to avoid crimes and scams that prey on both San Franciscans and foreigners.
It also provides training to Consulates to empower them to address the concerns of victims of crimes seeking justice and assistance.