San Francisco, 27 August 2018 – The Philippine National Police (PNP) launched its Global Police Community Relations program dubbed as "Pulis Global PCR" in the Bay Area on 27 September 2018 at the Philippine Center in San Francisco. The launch was held to reach out to the Filipino-American Community in the Bay Area and to raise awareness among Filipinos overseas that they can coordinate directly and partner with the PNP in all law enforcement, security, and safety – related concerns, involving their families and relatives back home and in any part of the globe.
The launch also coincided with the partnership commitment signing between the PNP-Police Community Relations Group (PNP-PCRG) and the Philippine Consulate General in San Francisco (PCGSF) in support of Spark*Connect*Empower, a movement that seeks to develop love and passion for Filipino culture and heritage, especially among Filipino-American millennials, that they may be moved to connect with one another in building an empowered Filipino-American community in the Bay Area and beyond. The agreement was signed by Consul General Henry S. Bensurto, Jr. on behalf of the Philippine Consulate General, and General RhodelSermonia, Chief of the PNP Police Community Relations Group.
In his remarks, Consul General Henry S. Bensurto, Jr. welcomed the launch of the "Pulis Global PCR" in the Bay Area and the partnership with the PNP-PCRG to empower and maximize the capabilities of the Filipino American communities in Northern California, Northern Nevada, Washington State, Oregon, Montana, Colorado, Idaho, Utah, Wyoming, and Alaska as force multipliers in the promotion and protection of the rights and welfare of the Filipinos overseas, which is one of the three pillars of the Philippine foreign policy.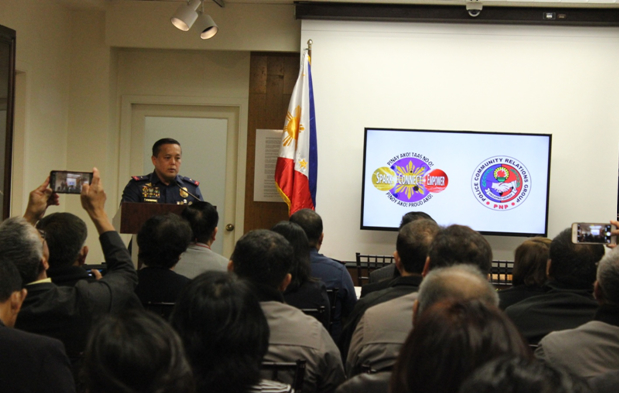 In his presentation, PSUPT RhodelSermonia provided updates on law enforcement-related issuesas well as information on best practices in the PNP. PSUPT Sermonia added that establishing global police-community relations has helped open the doors for other international law enforcement agencies to do partnerships with the PNP.
The officers and staff of the Philippine Consulate General were present along with members of the media, the officials and members of the Filipino-American Law Enforcement Officers Association (FALEO), and officials and members of other Filipino community organizations.