It's Ready, Set, Go for TFC Live's TIKIM Filipino Food Fun Run in Tampa, Florida on November 17
Philippine Queen of Soul Jaya, Adobo Nation's Lee Robin Salazar to join day-long fun activities for the whole family
TAMPA, FL, November 5, 2018 – The best time to visit the major city of Tampa in Florida is from September to December, except probably in February of 2021 when it hosts Super Bowl LV – an event everyone wants a piece of.  Otherwise, aside from the best hotel discounts during the last three months of the year, the weather is near perfect for enjoying Tampa's outdoor attractions considering it's in the high 70s to mid-80s most days.
Maybe that's why Tampa is enjoying right now sold-out stadium and arena tour legs of the likes of Grammy-winning acts Ed Sheeran and Twenty One Pilots with its much talked about apocalyptic set.
Or why there are almost 50 races and fun runs in the city in November and December 2018 alone.
Rising above the sea of fun activities in Tampa this fall is TFC Live's TIKIM Filipino Food Fun Run at the Philippine Cultural Enrichment Complex on November 17, 2018, Saturday, starting at 10am.  This is the third installment of the TIKIM Filipino Fun Run series that kicked off last Mother's Day at the Coyote Point Recreation Area in San Mateo, California, followed by another on September 22 at the Earl Bales Park in Toronto, Ontario, Canada.
On November 17, a full program is already set!  And no less than Philippine Queen of Soul Jaya and TFC's "Adobo Nation" host Lee Robin Salazar will be on hand to provide world-class entertainment to attendees after the run. Joining them is a solid line-up of live performers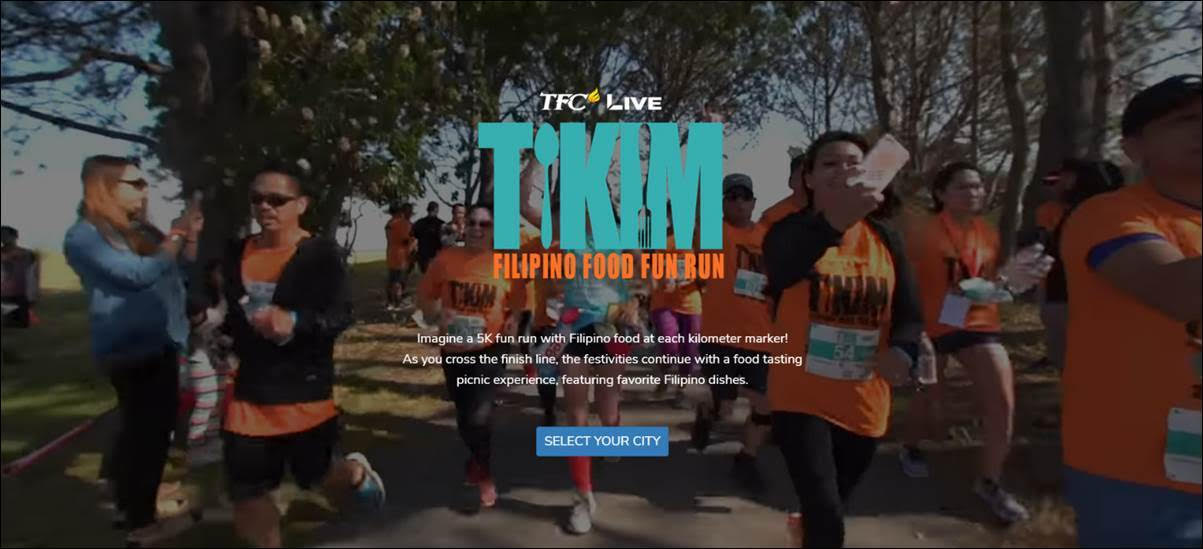 TIKIM Filipino Food Fun Run caught the attention of many with its one-of-a-kind 5k fun run (or walk) that celebrates Filipino culture and the value of giving back. It takes the runners through a course with a unique Filipino food tasting station at each kilometer. Part of the proceeds from the registration is donated to the feeding program of Bantay Bata (Child Watch), a pillar program of ABS-CBN Foundation International.
The full schedule for the TIKIM Filipino Food Fun Run in Tampa, Florida is as follows:
8:00 AM – Gate opens
– Packet Pick up
– Registration
– WILL CALL
– Food Vendors & Exhibitors
9:30 AM – Zumba (Warm Up) by: UJAM
10:00 AM – Run Starts
Noon – Program Starts
– Singing of the Philippine National Anthem (Alexis Bentinganan)
– American National Anthem (Philfest Tawag ng Tanghalan winner – Jennifer Barrican )
12:10 PM – Welcome Remarks (TFC & FAMI)
12:15 PM – UJAM
12:25 PM – Feisty Mommies with Bobby
12:30 PM – GAMES (℅ FAMI Team)
1:00 PM – UCF Dancers (Cultural Dance)
1:15 PM – Forever 40 young sisterhood
1:30 PM – GAMES ( ℅ FAMI Team)
2:00 PM – Jennifer Barrican ( Song Number)
2:10 PM – Philippine Performing Arts & Company (PPAC)
2:30 PM – Feisty Mommies with Bobby
2:40 PM – GAMES ( ℅ FAMI Team)
3:00 PM – UJAM
3:15 PM – UCF Dancers ( Cultural Dance)
3:20 PM – USF FAM ( Hiphop)
TFC Live partners this year with the non-profit Philippine Cultural Foundation, Inc. to hold TIKIM Filipino Food Fun Run in Tampa at the historic Philippine Cultural Enrichment Complex at 14301 Nine Eagles Drive, Tampa, FL 33626. Helping out also is TFC community partner Fil-Am Movement International which holds annually the Fiesta Mo Sa Florida in Kissimmee.
For more information or to register for the TIKIM Filipino Food Fun Run in Tampa, Florida, visit https://usa.mytfc.com/tikim or the registration website at http://tikimfilipinofoodfunrun.itsyourrace.com/event.aspx?id=11366