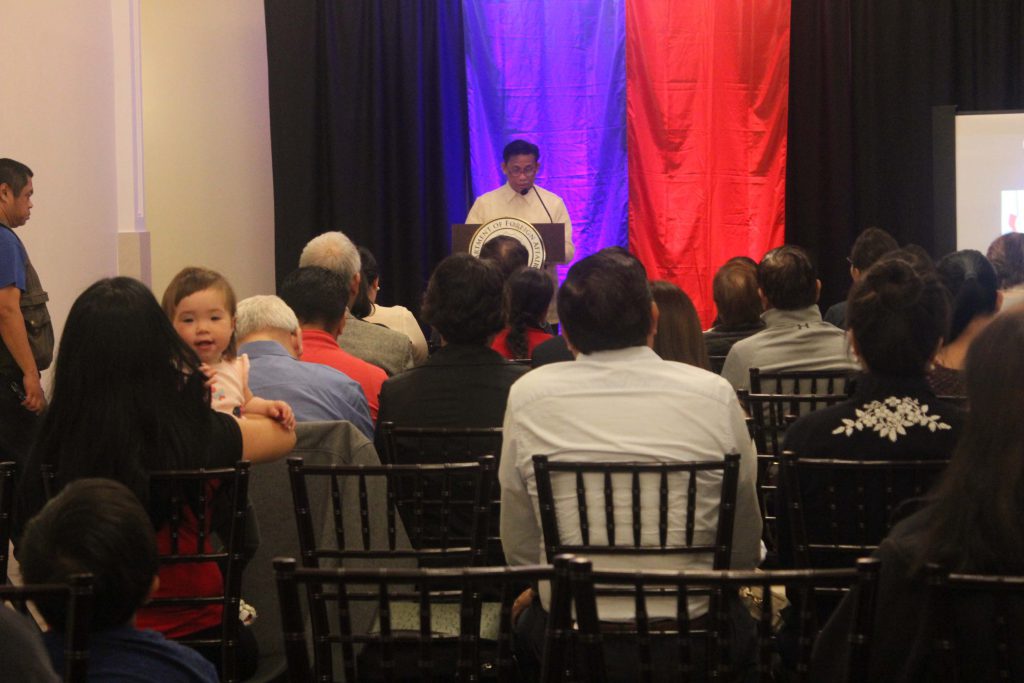 13 September 2008, San Francisco, California. In line with the Department of Foreign Affairs' mandate of providing efficient and comfortable service to the public and also with the Philippine Consulate General's flagship movement, Spark*Connect*Empower which seeks to inspire all Filipinos throughout the world to be proud of their heritage and love the Philippines through nation-building programs and activities, the Philippine Consulate General has formally begun its appointment system for dual citizenship applicants on 04 September 2018.
As part of this new and streamlined process for dual citizenship applications, the oath of allegiance, the final step toward the reacquisition of Filipino citizenship is now held once a week, on Thursdays, at the Kalayaan (Freedom) Hall at the lobby of the Philippine Center Building. The once a week ceremony has been instituted to ensure that proper respect and dignity are accorded to this solemn oath taking.
Consul General Henry S. Bensurto, Jr. officially led the first oath taking ceremony of twenty-six (26) dual citizenship applicants who have availed themselves of the appointment system on 13 September. In his remarks, Consul General Bensurto expressed appreciation to all of those who attended the ceremony who have given their time and effort into the application process. He congratulated all of them and expressed
hope that they will be partners of the Philippine government as stewards of nation-building abroad:
"Let us show to the younger generation the true spirit and essence of being a Filipino. A Filipino is someone who values God above all, and treasures family most of all. A Filipino is someone who respects and cares for the elders, and protects the young and the vulnerable. Someone who is willing to endure loneliness and distance just to be able to provide comfort to his/her family. Someone who is passionate about his convictions yet willing to listen to the other side. Someone who braves the might of military tanks using the power of prayers. Someone who is resilient, able to withstand and rise from any storm or calamities. Someone who believes in the dignity of every person regardless of age, gender and status in life."
Those seeking to apply for dual citizenship through the Consulate General's appointment system may do so through the link, www.sparkconnectempower.com.