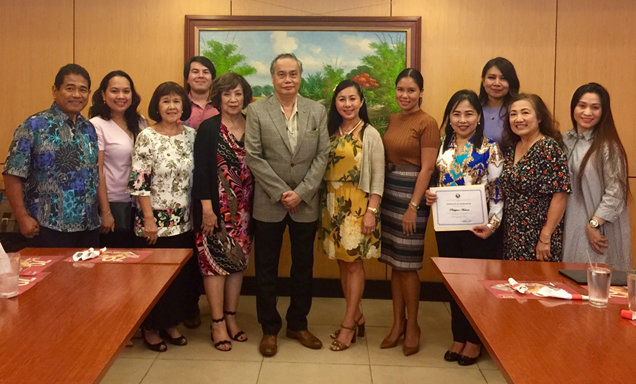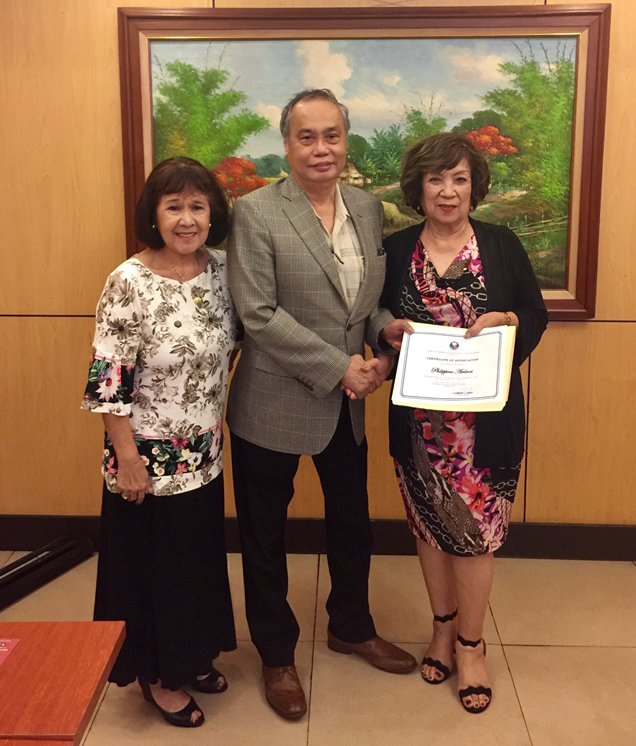 (15 July 2019, Honolulu, Hawaii) – The Philippine Consulate General in Honolulu organized a coordination meeting with different travel agencies for the 2019 VIP (Ambassadors') Tour on 5 July 2019 at Max's of Manila. Hawaii will once again send the most number of participants to the tour. One hundred one (101) people from Hawaii will join the VIP Tour happening on 14-21 July 2019 with stops at Manila, Bataan, Clark, and El Nido, Palawan. Everlasting Travel sold the most number of VIP Tour packages with 32 sales, followed closely by Four Seasons Travel with 31, and Aloha Travel with 29. Panda Travel closed 4 deals and newcomer JTB Travel sold 2 seats. Philippine Airlines will also send one participant to the tour. Consul General Joselito A. Jimeno, together with Vice Consul Andrea Christina Caymo, Post's Economic Officer will lead the delegation and promote the different tourism assets of the country.
During the coordination meeting, Post conveyed important information for this year's VIP Tour participants as well as details of other upcoming tours that travel agencies can offer their clients. In October, business representatives and investors may consider joining the Trade Mission to the Philippines co-organized by the Philippine Consulate General with the Filipino Chamber of Commerce of Hawaii (FCCH). The Trade Mission is scheduled on 14-21 October 2019 and will include a two-day Business Conference in Makati, a site visit to different companies, one-day business matching session, and visits to Manila FAME and the Ilocos Trade Fair in Laoag and Vigan. Booking information will be released by FCCH on their website https://filipinochamber.org/.
Hawaii travel agencies may be interested in promoting Diskubre Tour, which is designed for Filipinx (Filipino millennials), second and third generation Filipinos, who want to know more about their cultural heritage. The tour will run from 3-13 January 2020 and will include cultural trips and local excursions in Manila, Binondo, and the Bicol Region (Legazpi, Sorsogon, Ticao, Buhi, and Camsur). Participants will visit historical places, ride carabao, bamboo bikes, balsa and ATV, participate in weaving demonstrations, learn local instruments like banduria and rondalla, interact with whalesharks and manta rays, harvest crops and plant rice, and enjoy other experiences that will increase their appreciation of their heritage. Land arrangement package starts at $1,090/pax (triple occupancy), exclusive of air tickets. More details about the tour can be found at https://www.travelwiseonline.com/lt-philippines-diskubre-tour.html.
The Consulate is also working with award-winning culinary host, Lanai Tabura, and the Philippine Tourism Office in LA in developing a culinary tour in March 2020 to coincide with the Filipino Food Month. The tour is designed for chefs and other food enthusiasts interested to learn more about the Philippines' cuisines and culinary heritage.
Travel agents and interested parties can get in touch with the Economic Section of the Philippine Consulate General in Honolulu (phone: 808-595-6316 | email: [email protected]) to find out more about these upcoming tours or obtain information on tourism in the Philippines.