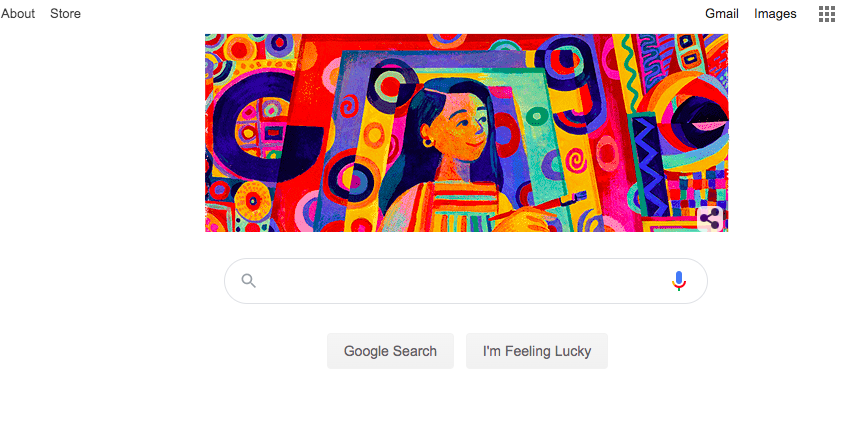 Filipino Artist Pacita Abad Feted in Google Doodle
31 July 2020
Pacita Abad
Google Doodle* featured internationally renowned Filipino artist Pacita Abad (1946-2004) today, 36 years since she made history as the first woman to receive the Philippines' prestigious Ten Outstanding Young Men art award.
Abad was born in Basco, Batanes, a small island in the northernmost part of the Philippines. Her website (https://www.pacitaabad.com/) tells about her artistic journey, starting her 30-year painting career when she traveled to the United States to study law in San Francisco. It was in San Francisco that she decided to switch careers and dedicate her life to painting.
She soaked in the '60s Haight-Ashbury milieu at the height of the hippie counter-culture movement.
Based on her website, Abad was actively involved with the community, wherever she was living. In the U.S., she supported Philippine-American and other Asian-American activities and causes with her time and donation of paintings. She also gave several courses and lectures.
Her motto was "Art is for everyone" and she enjoyed giving art workshops to thousands of children around the globe.
Read more on: https://news.abs-cbn.com/ancx/culture/spotlight/07/31/20/the-story-of-the-very-extra-pacita-abad-whom-google-just-honored-with-a-doodle-of-the-day
According to Google.com, Doodles are the fun, surprising, and sometimes spontaneous changes that are made to the Google logo to celebrate holidays, anniversaries, and the lives of famous artists, pioneers, and scientists.
* In this San Francisco Philippine Consulate General (SFPCG)'s Facebook feature, we're happy and proud to put a spotlight on Filipino Americans who continue to rise in their respective careers and chosen fields and more importantly, those who are proud of and acknowledge their Filipino roots and heritage.
Like us on FB : www.facebook.com/PHinSF/ and www.facebook.com/scesanfrancisco
or Email your comments to: [email protected]
#sparkconnectempower #PinoyAkoProudAko