Dr. Shahida Jaffrey talks about her experiences as a woman from Pakistan who has pursued higher education abroad and helped other Pakistani women achieve their goals.
SAN FRANCISCO, 7 November – If a hash tag were to describe the talk of Pakistani Dr. Sharida Jaffrey, it would have to be #womenpower.
The League of San Francisco Consular Corps (LSFCC), led by its current president. Ms. Mariza S. Bensurto, featured a talk by Dr. Shahida Jaffrey at the Kalayaan Hall, Philippine Center on Sutter St.  Titled, "A Woman from Pakistan," the talk focused on her life story as an empowered woman and her contribution to the empowerment of other women and families in her native Balochistan.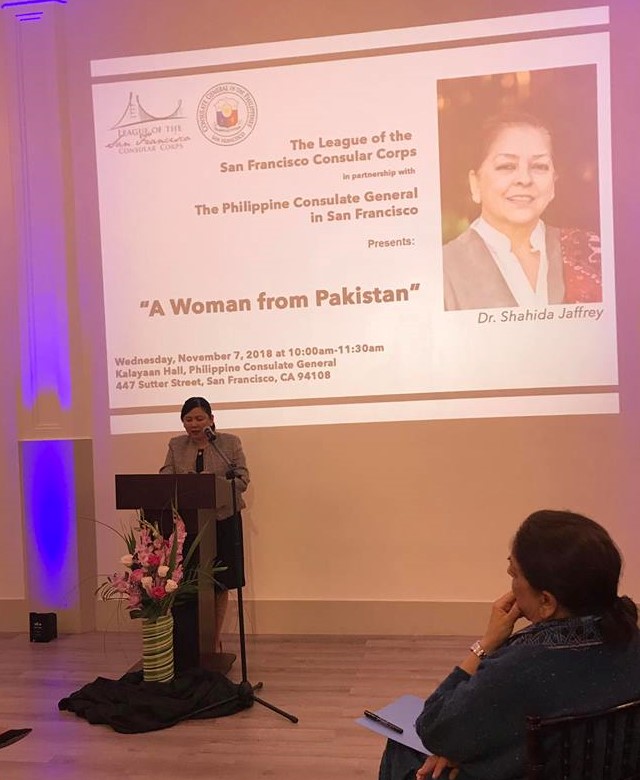 Dr. Jaffrey's was not a Cinderella story. She came from a privileged background, having studied various disciplines and becoming an educator herself. As the wife of a diplomat and mother of three, she raised her children in Manila and Brussels and continued her post-graduate studies. She finished her doctoral degree in education at the University of the Philippines (UP) as her expatriate family lived in the country for 14 years. Her husband served as a diplomat and later on worked for the Asian Development Bank. It was the 1980s and she recalled having met political figures in the Philippine society and witnessed the changing political and social milieu at that time.
She also fondly recalled her experiences raising her growing brood with the help of "Manang Luz" from the Philippines. Dr. Jaffrey later on taught at De La Salle University upon the invitation of former De La Salle president Brother Andrew Gonzalez.
It was back in Balochistan after her husband's foreign assignments that Dr. Jaffrey was able to contribute more to the development of her countrymen, especially in the countryside.
With her privileged family background, she used her time to teach and train her compatriots to grow crops of value, including fruits and vegetables. She has also taught women to raise their children and families well and encouraged them to pursue their education.
According to Dr. Jaffrey, it was not an easy feat for a woman to make a difference in a society dominated by men. She was discouraged by local authorities to forego her plan to establish a women's university. Nothing, however, daunted her, even threats of physical violence. Her house was once raided by local law enforcers and some of her valuables, including a laptop, were seized.
In 2004 she came out successful and established the first women's university in the largest province of Pakistan, Balochistan. She founded the Sardar Bahadur Khan Women's University, where she also served as the first woman Vice Chancellor.
Asked, however, which of all her accomplishments she considers most important and memorable, she said, "It is being a mother to my children and raising them well."
Dr. Jaffrey currently serves on the boards of the Rural Support Programs Network (RSPN), a network of the major Rural Support Programs in Pakistan; National Rural Support Program (NRSP); Balochistan Rural Support Program (BRSP); and the National Institute of Rural Management (N-IRM).
She is also the chairperson of Behbud, Balochistan, a non-profit organization, which provides preventive healthcare to underprivileged women in the rural area of District Mastung.
Among her numerous awards and honors are Accolade of Excellence, Woman of the Year for Education, 15th Star Awards, by the South Asia Publications, and Civil Society Organization 2008 President's Award:  The Tamgha-e-Imtiaz. She was also a 2009 Magsaysay Award nominee.
Dr. Jaffrey holds a Master's Degree in English Literature from the University of Punjab Lahore and PhD in Education from UP